CAIRNS CITY WEBCAM - LIVE video
CAIRNS WEBCAM
The Cairns City Webcam is located on the Pacific Hotel Rooftop.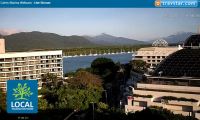 The camera shows a live video stream of Cairns inner city and includes views of the Cairns Marina, Reef Fleet Terminal, Casino, Cairns Esplanade & Parklands.
The view usually changes every 20 seconds. Sometimes it will stay fixed on the same scene if it has lost power and reset.
Best viewing time is from midday to early evening when the sun is behind the camera.
THE CAMERA TOUR
The Cairns Marina & Reef Fleet Terminal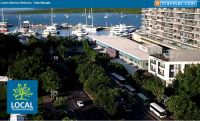 The Marina is the departure point for the majority of Reef Day tours from Cairns.
In the afternoon you can see the Great Barrier Reef tour boats returning their Day Tours.
Cairns Cruise Liner Terminal
Many Cruise Ships visit Cairns each year and are clearly visible by the camera when docked at the Cairns Cruise Liner Terminal south of the camera.
The Cairns Airport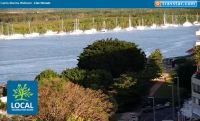 The airport is visible in the distance to the North
Trinity Inlet- Cairns Harbour
Trinity Inlet is the port of Cairns and home to an abundance of wildlife. Scenic cruises along trinity inlet depart daily. There are also boats & jet skis for hire, the Bad Fishy speed boat tour, Ocean Spirit dinner cruise and an number of fishing and crabbing tours available.
Reef Hotel Casino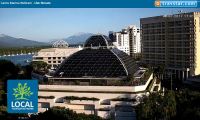 The Reef Hotel Casino dome is a feature of the Cairns skyline and also home to the Cairns Zoom rope course and Cairns Wildlife Dome
Cairns Esplanade
The esplanade strip in the city centre is a hub of activity with many restaurants, bars and night markets.
Fogarty Park
Fogarty Park is host to many events in cairns the soundshell and surrounding parklands can hose up to 4000 people.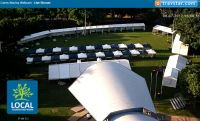 About the Pacific Hotel Cairns
he Pacific Hotel Cairns is a 4.5 star rated, situated in the best location in Cairns; downtown on the waterfront just a short stroll to everything Cairns city has to offer.
The three storey lobby creates a cool, welcoming and tropical ambience. All rooms offer private balconies with most having views overlooking the Cairns Marina, Trinity Inlet and local parklands.

Please e-mail admin@travstar.com if you would like to alert us to a problem with the camera.