THINGS TO DO IN CAIRNS
Cairns is best known for its scenic natural beauty. Situated between two world heritage listed areas - the Great Barrier Reef and Daintree Rainforest, Cairns is spoilt for choice when it comes to adventure tours and activities.
Below, in no particular order, are a selection of self drive and guided activities for your holiday in Cairns.
WATERFALL CIRCUIT
Top Waterfalls to see in Far North Queensland
Millaa Millaa You will be pleased you remembered your camera when you arrive at Millaa Millaa Falls, one of the most photographed images in the Wet Tropics. There is a short walking track from the car park downstream, or you can view the falls directly opposite from your car in the main viewing area. Millaa Millaa is a popular swimming spot for locals and tour groups alike. You may see the Ulysses Butterfly and Platypus late in the afternoon. There are many iridescent dragonflies that may stay still long enough for you to be able to take a photo of them. Barbecue and picnic facilities are available.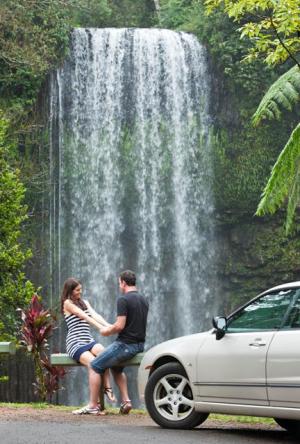 Zillie falls is located 7.5km past Millaa Millaa falls. These falls are best seen from below. There is a walking track to the creek bed. From the car park you can also take a short walk across the road and through some forest to a viewing platform where you will see a good view of the rapids and top of the falls. Makesure you take a look at one of the trees in the car park, as this is home to a colony of Flying Foxes which can easily be seen.
The Ellinjaa Falls are a 3km drive past the Zillie Falls. This is a picturesque and popular waterfall that runs in cascades over a series of lava columns. A viewing platform is located at the beginning of the walk, which provides a clear view for photo opportunities. The walk then descends to the waterfalls base, where Platypus and turtles can be found in the plunge pool of the falls. Swimming is not recommended at these falls.
Stoney Creek Falls is a cascade waterfall on the Stoney Creek located where the river descends from the Atherton Tablelands to the Cairns coastal plain. Protected within the Barron Gorge National Park, the falls are formed where Stoney Creek starts to descend in steps from the shoulders of the gorge. The falls are best known for the curved lattice railway bridge that passes in front of them.
Malanda Falls are situated on the Atherton Tableland, near the town of Malanda. They are within the Malanda Falls Conservation Park. There are two 20-minute walks in the surrounding rainforest, with a chance of seeing a tree kangaroo. The visitor centre books guided walks with aboriginal guides. It also has displays on the rainforest, geology and history of Malanda. The swimming pool and associated infrastructure is very popular with locals and tourists.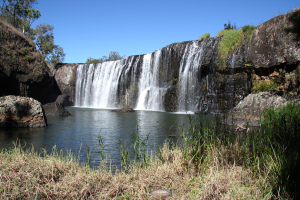 Millstream Falls is past Queensland's highest town (with Queensland's highest pub!) Millstream falls is reputedly, the widest single-drop waterfall in Australia! Most people stop here at the beginning or end of their journey along the Savannah Way, an area rich with volcanic caves, cavernous gorges and gem stones waiting to be discovered. Interestingly, the Millstream area is said to have been used as a campground for soldiers during World War II and relics are often discovered in and around the falls, happy hunting!
Nandroya Falls is encased in a mossy covered alcove of the Wooroonooran National Park, Nandroya Falls and its little sister, Silver Falls are worth every step of the 6km round trip from the carpark. Dropping from what looks like a crack in the rock, Nandroya Falls is perfect for cooling off in. For the best photo opp, we recommend clambering around the right hand side of the falls, be careful though it's a little slippery! The area is also famous for it's giant fig trees.
Tchupala Falls not far from Nandroya Falls is Tchupala Falls (pronounced Chu-par-la), an awesome spot to stop for a swim on your way down the Palmerston Highway. The water cascades down into multiple streams which means one thing, no fighting for prime position with your friends! Pick your spot under the waterfall and let the day waste away!
Wallicher Falls by now you're probably wondering, how many waterfalls could there possibly be on the Atherton Tablelands? To be honest, we haven't even scratched the surface but if you're visiting Tchupala Falls, you may as well stop and check out Wallicher Falls as well. With only 500m separating the two, locals say Wallicher Falls is more appealing but we'll let you be the judge of that!
Dinner Falls Positioned in the Mount Hypipamee National Park and on the same circuit as the eerily beautiful Mount Hypipamee Crater, Dinner Falls is a series of cascades from the headwaters of the Barron River. Picnic tables are provided in the circuit and it's a wonderful place if you're after more than one discovery in your day!
Uncles Brian's offers a fabulous day out to these waterfalls and includes many popular sights on the Tablelands. It is a fun and friendly day, and Uncle Brian will make sure that you get to see the best of the rainforest and waterfalls, while keeping you entertained and laughing the whole way! Please enquire for further details on this tour.
ACTIVITIES FOR RAINY DAYS
Fun Wet Weather Activites in Cairns. If it's raining in Cairns the locals rarely bring out an umbrella. Often times it's a welcome relief from the humid warm tropical weather. There is no need to stay put in your Cairns accommodation and wait for the sun to come out. There are quite a few activities which are actually enhanced by the wet weather. Below we have listed a few ideas: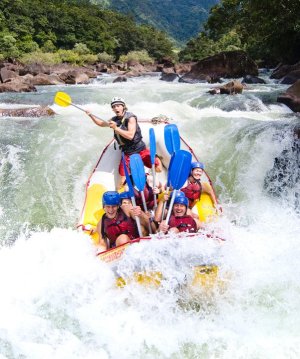 White Water Rafting on the Tully River:
You're going to get wet anyway so don't let the rain stop you! This is without a doubt the most exciting way to immerse yourself in the heart of the North Queensland Rainforest. The Tully River is the best white water rafting experience in Australia and with a bit of rain behind it the experience is even better. The day trip is run by professionals and very safe. Minimum age is 13 years. It's great fun!
The Tully River is located south of Cairns. We have packages available including transfers from Cairns & Mission Beach.
Barron River Half Day Rafting:
The Barron River is a little less extreme than the Tully and only 20 minutes from Cairns. This half day adventure departs from Cairns and Port Douglas daily. During the wet season the Barron River dam overflows and the White Water Rafting trip jumps from grade 2 to grade 3 rapids. Great for Families! Your guide will give you comprehensive safety instructions and the world's best Rafts are used.
Blazing Saddles Horseriding & ATV:
Blazing Saddles is the longest established horse riding and quad bike tour company in Far North Queensland. Locally owned and operated, it is now located only 10mins from both Cairns and Northern Beaches. Well suited to even the most time conscious visitor and is perfect for a soft adventure activity for the whole family!
Blazing Saddles is located on a working sugar cane farm and the property boasts an 18 acre billabong which is abundant with native birds and amphibious creatures of all shapes and sizes! You will even get a chance to meet the resident geese, peacocks, ducks, perhaps even spot a crocodile!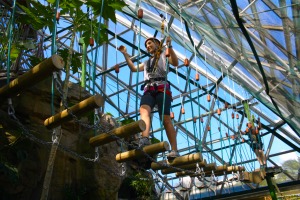 Cairns Zoom at the Rainforest Dome:
The Cairns Zoom is the world's first Challenge Ropes Course in a wildlife immersion exhibit, situated in the heart of Cairns City. Test your strength and bravery on more than sixty-five different crossings over two height levels, encompassing a climbing wall, log bridges, tunnels, swinging beer kegs, skateboards, seesaws, cargo nets and more.
The Rainforest Dome is located in 20 metre high glass dome on top of the Reef Hotel Casino. Here you will see the huge saltwater crocodile "Goliath" in his unique pen with an underwater glass viewing tank. The Rainforest Dome also houses many other native animals including fresh water crocodiles, turtles, frogs, snakes, koalas and many free flying birds all in a very well presented rainforest environment.
The Rainforest Dome is open 7 days from 8am - 6pm. Access is via the lifts in the casino lobby.
Go Mountain Biking:
Retrace the 1996 UCI World Mountain Bike Championship course, both cross country and downhill with Dan's Mountain Biking. This course was previously utilised for two rounds of the Grundig World Cup Series. The course weaves through tropical rainforest and offers 'interesting' challenges. Dan is a very experienced rider, with local knowledge of the best trails in the region. He was the mountain bike course designer and leg co-ordinator for the Discovery Channel Eco-Challenge Race (Australia) in 1997. Half day or full day tours are available including a daytrip to Cape Tribulation World Heritage Rainforest.
Cape Tribulation Day Tour: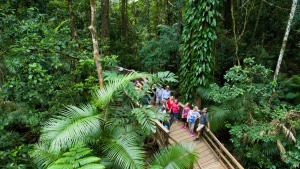 One of our most popular daytrips from Cairns is the Cape Tribulation daytrip. This is absolutely an all weather activity. The rainforest really comes alive in the rain and in fact we would describe it as 'perfect timing' if it does rain in this World Heritage Rainforest. On the drive up to Cape Tribulation along the scenic Port Douglas Captain Cook route there are many waterfalls that spring into action. This is also the case on the way up to Cape Tribulation and truly adds to the experience.
Kuranda Train & Skyrail:
Visiting Australia's Tropical Rainforests in the rain is a magical, must-do experience. If you are here during the wet season (between December & April) and we have had some heavy rain, the waterfalls & rainforest along the train tracks up to Kuranda are a sight not to be missed. And what better way to see them than from the comfort of the classic Kuranda Train as it winds its way up the mountain to Kuranda, or the bird's eye view from one of Skyrail gondolas as they travel between Cairns & Kuranda.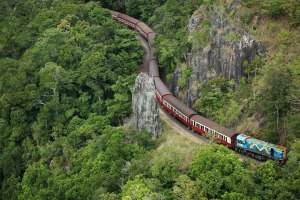 The journey offers magnificent views, rolling cloud formations hug the majestic rainforest-clad mountain ranges, shrouding this ancient environment in a cloak of moisture-laden mist. The rainforests respond with an array of flowers, fruit and new growth, making now a particularly spectacular time to visit this World Heritage listed area.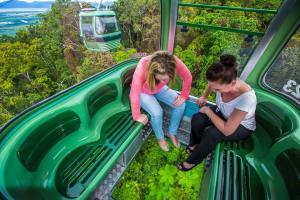 On Skyrail, you will glide through the clouds in fully-enclosed gondola cabins, enjoying unrivalled views over the rich rainforest canopy of the Barron Gorge National Park. Two rainforest mid-stations allow you to explore and learn more from the forest floor. Enjoy a Ranger guided boardwalk tour at Red Peak Station, and soak up the majesty of the mighty Barron Falls from one of the three lookouts at Barron Falls Station.
The Kuranda Train & Skyrail travel right past the magnificent Barron Falls giving you the best possible view and photo opportunity.
You can book a wide range of Kuranda Train and Skyrail day tours with travstar.com that either include return Cairns, Port Douglas or Northern Beaches hotel transfers, or you can drive your car to the Skyrail Station and leave it there for the day opting for the one way transfer daytrip.
Don't panic if rain is predicted on the only day it is possible to do your Reef trip from Cairns:
The forecasts for Cairns often predict rain but the reality is that our city is surrounded by mountains and rain is regularly predicted however often this is simply a shower in the morning or overnight. Outer Reef dive and snorkel operators often have a number of moorings on the Great Barrier Reef and can choose their destinations for the day based on the weather patters and tides. It is excellent when the day is sunny and clear however once you are underwater the coral and fish in this spectacular underwater world are all still going about their daily activities and looking cute. The benefits of visiting the reefs from Cairns, besides the variety of boats available at very reasonable prices, are the proximity of the outer reefs to shore. The fact that there are so many coral islands, continental islands, drop offs and drift dive sites to name a few. The dive shops are highly professional and have outstanding safety records, as does the dive industry as a whole.
WHITE WATER RAFTING
Two of the rivers flowing down from the Atherton Tableland are perfect for rafting. This is an exhilarating way to experience World Heritage Rainforest for many visitors to our region. Most popular is the Tully River full day trip with Grade 4 rapids. Less challenging 1/2 day trips on the Barron River also depart daily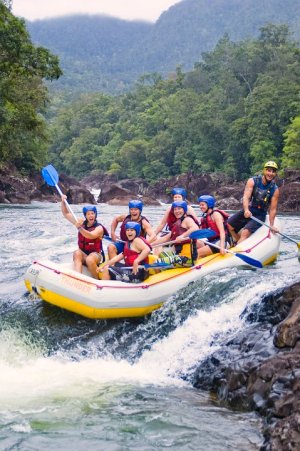 The Tully River
Voted Australia's No#1 Rafting Trip! Providing more than enough excitement to satisfy your thirst for adventure! The Tully River is the most popular destination for a one day rafting trip. You will spend over 5 action-packed hours rafting 45 rapids in remote World Heritage Rainforest
The Tully River is located about 1 hour south of Cairns, and is rated a Grade 4, which means there are exciting rapids and a good chance you will be in the water at some stage during the day!
For those who are looking for a more thrilling adventure, upgrade to the Xtreme Tully River Rafting - ultimate rafting experience. Get your heart racing and your adrenalin pumping! All participants must be fluent in English and competent, confident swimmers.
Xtreme Tully River Rafting are the first on the river. The group is smaller and the experienced guides take you on more thrilling paths through the rapids. Cliff jumping, rapid swimming and raft surfing.
Barron Half Day Rafting
Only 20 minutes from the centre of Cairns, the Barron River is a fantastic introduction to White Water Rafting. The trip operates daily as there are guaranteed water levels all year round on the power station controlled waters of the river. The river offers Grade 2 & 3 rapids.
CAIRNS CABLE SKI & WAKE PARK
Cable Ski Cairns, Tropical Queensland's one and only Cable Water Ski park and one of only four parks in Australia, opened it's doors for business in the middle of 2005.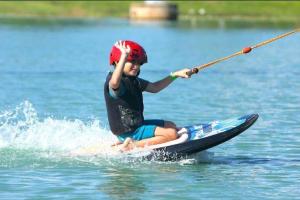 Cable Ski Cairns offers a unique watersport experience to young and old. Beginner to Advanced can have fun and a sense of achievement through a well designed and safe activity. Various equipment is provided, ranging from beginners' kneeboards to the more advanced wakeboards and water skis for the extreme wakeboarder and waterskier.
The main building hosts the Administration Offices, the Pro Shop and a Kiosk. An open view terrace with chairs and tables invite you to relax and let the day go by.
A beach with umbrellas and sunlounges, a BBQ area and a small swimming lagoon for our young visitors contribute to the inviting atmosphere.
Three years in the making, it took entrepreneurial skills and strong visionary skills to transform canefields in a flood plain area into a water ski park of the calibre of Cable Ski Cairns.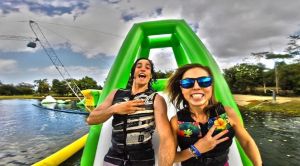 The lake itself is man made, its water level is maintained by rainwater and in the dry season by natural springs.
Located at the bottom of the Kuranda Range in Smithfield, situated next to two of North Queensland's major Tourist attractions, Skyrail Rainforest Cableway and Tjapukai Aboriginal Park, Cable Ski Cairns is surrounded by mountains and rainforest, which adds to its unique atmosphere.
Easily accessible by car or local transport, the Cable Ski Park is on the main route to Cairns' Northern Beaches and Port Douglas. Cable Ski Cairns is just north of Cairns CBD, only 5 km from the domestic and international airport and easily accessed via the Captain Cook Highway.
Cable Ski Cairns is located 15 minutes drive north of Cairns City next to the Skyrail Station.
The Cairns Cable Ski Park opened in 2005 and is run by professional wake boarders and water skiers.
You don't need experience to try cable skiing. Children 10 years and over are welcome to have a go. This is a great introduction to water skiing for beginners.
CAIRNS MARKETS
There are excellent Markets in North Queensland which all sell a combination of local art and craft, locally grown exotic fruit, vegies, flowers and souvenirs.
The Cairns Night Markets are probably the most popular markets and have cheap phonecall/internet stalls, a wide variety of products including fake tatoos and glass blowing. Open nightly from 4:30pm on the Cairns esplande behind the main foodcourt and many outdoor cafes.
Many Cairns locals do their weekly shop at the Cairns City Rusty's Markets for Fruit and Vegies on Friday and Saturdays. There are some craft stalls but this is a brilliant place for fresh juice and wholefoods. Great spot for photos and people watching. It is between Spence and Sheilds Sts on Grafton St.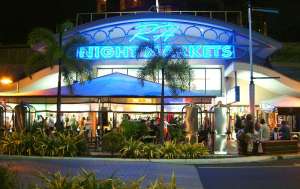 The Cairns Esplanade Market is on every Saturday between 8am and 5pm. Here you will find local quality stalls selling contemporary jewellery, woodcraft, leather work, pottery, airbrush tattoos, clothes, skincare and massage stalls.
In the City Place there are always a couple of market stalls from Monday to Friday.
On the last sunday of the month between 9am -2pm, April and November visit the Tanks Arts Centre Market Day. Here you will find local art, craft, produce & lifestyle stalls. Local entertainers and arts-based kids workshops are all here. Take a wander through the art gallery. This is a popular local market where you can enjoy the ambience of our Cultural precinct. This year the dates are May 27th, June 24th, July 29th, September 2nd, September 30th, October 28th and November 25th.
Each Sunday morning for over 20 years Port Douglas has come alive with the renowned 'Port Douglas Sunday Market'. Here you will find locally made hand crafted goods of every description. Hire a care and take the scenic one hour drive north of Cairns to this pretty coastal town.
The Kuranda Markets are open daily. There is locally made icecream and honey along with all the typical market fare. When participating in the Kuranda Train and Skyrail daytrip you will have free time in Kuranda to explore the markets here. The original bottom markets behind the Honey House are still open and the Heritage Markets are across from this. Also nearby are the interesting attractions including Birdworld, Butterfly Sanctuary and Reptile and Koala animal exhibits.
The Yungaburra Markets on the Atherton Tablelands are on the Fourth Saturday of each month. This market runs from 7.30am to 12.30pm and sells fresh flowers, home made crafts, local wines, clothing and fresh produce. Yungaburra is a typical pretty Queensland historic town. If you happen to be in North Queensland on the fourth Saturday we recommend this is an excellent addition to your itinerary.
The Mission Beach Markets are on the last Sunday of each month between April and November.
TOBRUK MEMORIAL SWIMMIN POOL
Tobruk Memorial swimming pool is located at 370 Sheridan Street, North Cairns. This is at the Northern end of the Cairns Esplanade towards Sheridan St. If you arrived by plane you will have passed it on your way into the city. This is the original Cairns Swimming Pool and has showers, change rooms, broad lawns for relaxing and established trees.
Facilities include:
50m swimming pool
25m heated pool (heated in winter only)
18m children's wading pool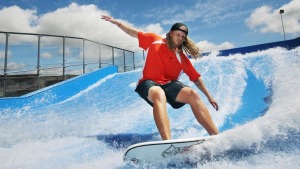 Flow Rider
Whether you're an amateur or a pro, test your skill on the Tobruk Flowrider and experience endless surfing fun.
Flow boarding is a hybrid board sport, combining the skill of snowboarding, skating and surfing.
Year-round opening hours:
Monday to Thursday, 5.30am - 8.00pm
Friday, 5.30am - 7.00pm
Saturday, 6.30am - 5.00pm
Sunday, 8.00am - 5.00pm
Public Holidays, 8.00am - 5.00pm (Note: ANZAC Day 8:00am - 4:00pm)
Christmas Day - CLOSED
Boxing Day - 10.00am - 4.00pm
New Year's Day - 10.00am - 4.00pm
Ph: 4052 1266 for more information.
DIVE EXPEDITIONS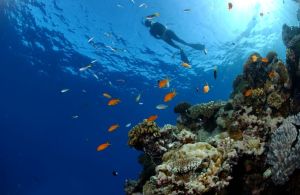 Liveaboard dive cruises are the best way to explore the dive sites on the Great Barrier Reef and the Coral Sea. Cruise in comfort in one of the many custom built and stable vessels. Dive - eat -sleep - dive. Enjoy chef prepared gourmet meals, be pampered and at the same time enjoy some of the best diving this planet has to offer.
Organised trips range from 2 to 7 days, and private charters can be arranged for even longer periods. Not only does it work out cheaper than a series of day trips, it also gives you a lot more dive time at various locations, and best of all you get the opportunity to do a night dive.
The local liveaboard operators offer different types of trips ranging from the Outer Barrier Reefs which are great for beginner divers, to the Cod Hole and Coral Sea expeditions which are an exciting contrast for more the experienced diver.
Your floating hotel on the reef will give you the opportunity to maximize your reef experience and really appreciate the wonders of this unique environment.
FISHING IN CAIRNS
Many local people fish on the main Whiteboat finger of the Cairns Marina near the Salthouse restaurant.
They also fish off the beach at the Southern end of the beach at Machans Beach where the Barron River meets the ocean.
The old bridge at Stratford on the Barron River is also a popular spot.
These are all land based locations where you can catch fish.
People also fish off the rock wall at Yorkeys Knob.
For local knowledge call into the local bait & tackle stores or take a fishing tour. Fishing tours offer estuary, reef and marlin fishing.
We have Bradsfords Fishing Tackle shop and also Tackle World here in Cairns.
Fishing is one of the most popular Great Barrier Reef activities with Reef/Bottom Fishing being the most common style. This means that the boat anchors and
passengers fish with either hand lines or rod and reel to catch top quality table fish found on the Great Barrier Reef.
In a typical day you can be fishing for Nannygai and Trevally in the shipping channel, to deep water bommie fishing for Mangrove Jack in the paddocks, to fishing for coral trout in the shallows.
Catch delicious table fish such as red emporer, coral trout, nannygai, spangled emperor, sweetlip and fingermark. Ensuring the minimum size of your catch has been met, your fish will be cleaned and chilled ready to take home for dinner.
CAIRNS RAINFOREST TOURS
The Atherton Tablelands is a land rich in rainforest, waterfalls, agriculture, wildlife, extinct volcanic crater lakes with a history reaching back 420 million years and 62 eruption sites uncovered. Today it is one of the most beautiful natural areas of Australia.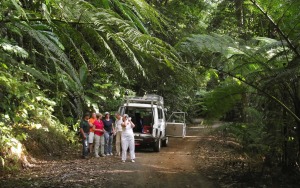 A fully guided nature tour is a must do when visiting the region, for you to be able to experience the best the Tablelands has to offer.
There are many day tour options to choose from for all ages that explore the Tableland rainforests, waterfalls and crater lakes.
Uncle Brian's is a wonderful daytrip, popular with backpackers and children. As well as lots of fun the sights are superb. Uncle Brian will keep you amused and entertained with plenty of tales to be told. He will make sure that you get to see the best of the rainforest and waterfalls, while keeping you entertained and laughing the whole day!
Wilderness Eco Safaris offer small group personalised tours through the World Heritage Rainforest, Waterfalls, Lakes & Wildlife areas of the Southern Atherton Tablelands. A highlight of the trip is the awe inspiring Spanish Castle in the rainforest - Paronella Park.
The property is situated on 13 acres of tropical rainforest along Mena Creek, south of Innisfail. Paronella Park is a collection of stunning buildings, castle like in appearance and surrounded by an incredible garden featuring over 7000 trees planted by Jose Paronella. It has a remarkable history and a truly magical feel.
The On the Wallaby Rainforest Waterfalls, Bike, Hike & Canoe tour is a value packed two days exploring the Rainforest & Volcanic Crater Lakes of the cool tropical tablelands. You can explore at your own pace on a mountain bike, go canoeing around beautiful Lake Tinaroo by day, or glide the rivers in a canoe at night on a nocturnal wildlife spotting tour with an expert guide.
CAIRNS HELICOPTER FLIGHTS
If time is of the essence, or seasickness plagues you, then there is no better way to see the reef and rainforests of Tropical North Queensland than from the air on a thrilling helicopter flight.
Helicopter Flights in the region encompass options such as scenic flights, combined flight & reef cruise packages, secluded sandy cay or rainforest dining tours, private charters and transfers to/from the Cairns Airport to Port Douglas.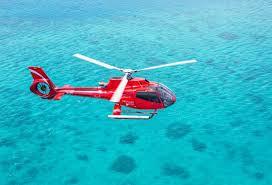 Scenic flights range between 30 & 45-minute tours. You will truly appreciate the beauty of the region from such a high altitude. Experience the exhilaration of flying over the canopy of the World Heritage Rainforest, then as the green changes to the vivid blues of water, you are flying over one of the great wonders of the world – The Great Barrier Reef.
Combine a scenic flight out to the reef, meeting your return cruise vessel at an outer reef pontoon for the ultimate Great Barrier Reef Experience. This tour option offers a later departure than your standard reef tour, and allows you to enjoy all the comforts of a Great Barrier Reef Cruise, without all the travel time involved. While on the pontoon passengers are able to snorkel, take a semi-submersible tour for a different view of the reef and experience a fabulous buffet lunch!
Choose between fly/cruise, cruise/fly or fly both ways. All options make for an unforgettable experience.
Indulge in the fantasy of a lifetime and fly to your own secluded paradise in the middle of the Coral Sea for a picnic with a difference. Passengers can spend approximately 3 hours on their own isolated sand cay island to enjoy some luxurious necessities such as chilled champagne, a sumptuous picnic lunch to order and shelter from the topical sun. Snorkel or simply lay on the beach to enjoy the peace & beauty of your surroundings before flying back to reality!
Other tour packages include Breakfast with the Birds at the Rainforest Habitat combined with a fly/cruise tour, breakfast at an outback billabong or fly & dine in the Rainforest or Cairns City.
Helicopter Charters are a unique service and involves a full day hire of a private aircraft and pilot who will take you where you want to go. Charter flights allow passengers to create their own itinerary, or transfer to & from Cairns airport in style. Heli companies can suggest flexible itineraries to make the most of your day.
What a fabulous way to begin your stay in Port Douglas by taking a 20 minute scenic flight from Cairns Airport to the Port Douglas Heli-pad, where a limousine will be waiting to transfer you to your holiday destination of choice.
Whichever Heli option you go for, be it a scenic flight or airport transfer, you can be assured that safety is top priority and you will be in for the ride of your life!
HOT AIR BALLOONING
The Atherton tablelands provide the perfect conditions for Hot Air Ballooning and the view from your basket of rolling hills and winding streams is stunning!
Mareeba provides perfect weather conditions for ballooning. There are over 50 departure points in the Mareeba area, which vary each day depending upon the prevailing wind direction. The cool air in the Mareeba Valley just after dawn provides the stable conditions needed for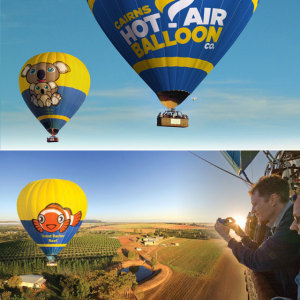 ballooning.
There are a couple of companies who offer early morning flights with transfers from Cairns & Port Douglas. If you are staying in the Tablelands you can drive yourself to the Mareeba Information Centre and Join the crew while they look for a departure point for the morning flight.
Some balloons have a have a capacity of twenty persons. Enjoy panoramic views and spot Australian wildlife from the air as you float along above wide-open spaces and picturesque landscapes.
Those taking a half hour flight can participate in the balloon chase, following the balloon to wherever the wind takes it. At the end of the flights you can join in the fun and help pack up the giant balloon.
Combine with Kuranda Train & Skyrail or Skyrail only:
As this Ballooning tour is located on the Atherton Tablelands many visitors opt to combine this tour with a Kuranda Train and Skyrail or Skyrail only component. If these tours are pre-booked with our special combo rates they do work out at better value than booking the individual components separateley.
KURANDA SCENIC RAIL & SKYRAIL
The Kuranda Train and Skyrail tour is one of the most popular land based tours in Cairns.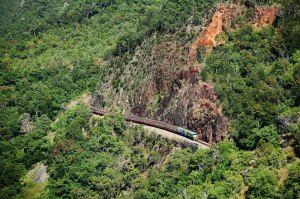 The Kuranda Train departs the Cairns Railway Station at 8.30am and 9.30am daily It stops en-route at the Freshwater Historical Railway Station also known as Freshwater Connection. This station includes a railway museum, pioneer cottage and a café where you can enjoy a hearty breakfast. This station is a feature of the day and we always recommend guests depart or return to this station.
Departures from Freshwater Railway Station are at 8.50am and 9.50am. Tours picking up from Cairns hotels start at 7.30am and 8.30am and take you to Freshwater Connection in plenty of time to meet the train. If you prefer to do the Kuranda Scenic Rail Train in the afternoon there is a 2pm and a 3.30pm departure from Kuranda.
This will get you back to Freshwater Station at 3.30pm and 5pm with coaches meeting these trains. The afternoon train is popular for guests who book the Gold Class upgrade. This upgrade includes beverages and morning or afternoon tea.
All of these tours do need to be pre-booked. The coaches are for pre-booked passengers only and there is not a regular local bus service. The train takes 1 hour and 40 minutes to make its way up the mountain range through hand carved tunnels and rainforest, stopping at the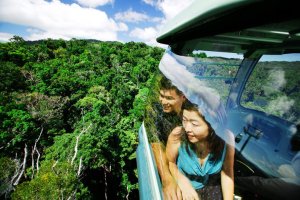 Scenic Barron Falls for a photo opportunity.
Once in Kuranda there is plenty to do. Shopping at the famous Markets, Wildlife attractions including Butterfly Sanctuary, Bird World and Koala Gardens, the Kuranda River Cruise.
The Skyrail is a cableway and runs like a ski gondola on a 14 km loop with many gondolas. These gondolas arrive every 40 seconds so there is not set departure times for these. We do suggest to allow 1.5 hours to go down the mountain. There are 2 stations on Skyrail where you can wander through World Heritage rainforest.
There are many different tour operators who offer variations to fit with your planning. For example people who prefer to sleep-in can opt for a later hotel pickup, go up on Skyrail then come back down the mountain on the Kuranda Train.
Self-drive Kuranda train & Skyrail:
For people who have their own car it is possible to book the Kuranda Train and Skyrail self-drive tour option. This involves driving your car to the Skyrail Station. Parking it free for the day. A coach driver then picks you up here and drives you over to the Freshwater Station where you can have a look around the station, head up to Kuranda on the train, spend the day in Kuranda then come down the mountain on the Skyrail at your leisure and jump in your car and drive back to your hotel. For people who have their own car this option gives you the convenience of leaving at a time that suits you and is a little cheaper than the other option that includes return hotel transfers.
Most Kuranda Tours are unguided and leisurely days. Fully inclusive tours that include lunch and Rainforestation. As well as Sunrise Hot Air Ballooning tours that combine with the Kuranda Train and Skyrail and work out at better value than booking these options separately.
KURANDA SCENIC RAIL
This unbelieveable train journey takes you 328m above sea level across awesome ravines and gorges, through exotic vegetation and past the hiding places of endangered rainforest creatures.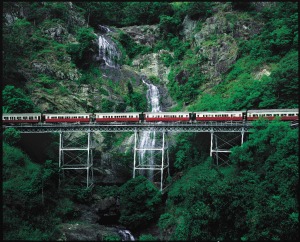 As you journey through some of the oldest rainforest in the world on the famous Kuranda Scenic Rail, you'll be making the same journey that many others have made for the last 100 years!
The Kuranda Scenic Train will take you past the Baron Gorge Observation Deck, to the giant bridge over Stoney Creek and through the 15 tunnels that were hand carved from the cliffs.
The railway operates daily all year, except Christmas day.
Includes an informative commentary and souvenir booklet.
Kuranda Railway Station is located beside the Skyrail Cableway Terminal so you can combine your Scenic Rail Experience with Skyrail and other attractions in any combination you choose.
SKYRAIL TO KURANDA
Skyrail to or from Kuranda Village is usually coupled with the Kuranda Scenic Train and other activities in Kuranda to give you a full day experience.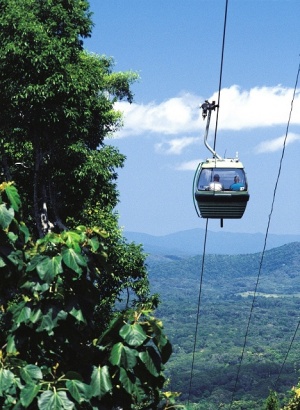 Skyrail gives you the opportunity to be dropped into the middle of world heritage tropical rainforest and experience the forest from the safety and comfort of boardwalks surrounded by an amazing diversity of plants, animals and birdlife.
You will be carried over the 7.5km of pristine rainforest in gondola cabins just a few metres above the rainforest canopy. The Cablecars operate continuously throughout the day.
Skyrail's two rainforest mid-stations give you the oportunity to explore and learn about this fascinating environment.
At Barron Falls station you will witness breath-taking views of the Barron River, Gorge and Falls. While at the station, visit the Rainforest Interpretive Centre. The hi tech computer based info centre offers displays that make learning about the rainforest entertaining and fun.
At Red Peak Station you will experience the forest floor from the safety and comfort of a 175m boardwalk. Skyrail's qualified rangers are on hand to give guided tours and there are rainforest displays and interpretive signage to help provide you with additional information along the way.
LEARN TO DIVE
Becoming a diver is simple and fun!
The first step is to take a PADI (Professional Association of Diving Instructors) Open Water Diver course; the most widely recognised and respected diving certification in the world.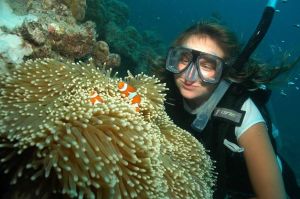 Most operators offer a minimum 4 day course, comprising of 5 pool sessions, 5 theory sessions and 4 training dives. The training dives must be over a minimum 2 days.
The course itself teaches the fundamentals of scuba diving, including dive equipment and techniques. They usually include a few days completing pool dives, knowledge development sessions and finish with completing four open water dives in the ocean.
Most companies conduct their courses in purpose built diver training facilities. These facilities include air conditioned classrooms, a medical room and a purpose built pool with a deep section around the 4m mark to get the depth whilst training.
You can choose to take a budget course with 2 x day trips to complete your open water training dives, or a liveaboard option maximising your experience out at the reef.
Meals and accommodation are included onboard the liveaboard and this will give you the opportunity to take extra 'fun' dives after your completed certification.
As Open Water Divers you will be allowed to dive to 18 metres (60ft). Whenever possible the dive operators will try to take you to 18m during the course, however the majority of your training will be in 10m (33ft) or less.
On completion of the course you will be given a dive certification card enabling you to travel the world and visit some of the most beautiful dive sites imaginable!
Minimum age is 12 years with no maximum age.
TANDEM SKYDIVE
Feeling like an adrenalin rush! No experience is necessary for Tandem Skydiving. Accommodation transfers are included. There are 4 freefall heights from 8'000 feet with 15 seconds free fall through to 14'000 feet with 60 seconds free fall!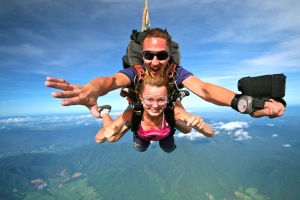 Your Tandem Skydiving adventure begins with transfers from your accommodation to the Skydiving office in Cairns at either 8am or 1pm. There you will meet your jump master and receive the necessary training you will need to gain the most enjoyment and safety during your jump.
Then all aboard the bus for a 5 minute ride to the Airport. The aircraft flight is an excellent visual experience with incredible views of the rainforest and coast.
About 2000ft before your jump height, your jump master will tighten up your harness. You'll notice your heart rate accelerating but this is nothing compared to when the door opens.
Your freefall depends on how high you go and your parachute will be activated by the jumpmaster at around 5000ft. From there it's a leisurely fly around one of the most beautiful places in the world with the landing being made on grass at the landing area just on the southern outskirts of Cairns.
From there it's reliving the experience with your other comrades in the bus on the way back to the office where you can purchase t-shirts and other exciting stuff to remember your jump. Shortly thereafter you will be transferred back to your accommodation.
You should allow half a day for your jump.
KITESURFING IN CAIRNS
Kitesurfing is a very popular sport with Cairns locals and Yorkeys Knob only a 14 minute drive north of the city is the perfect location for this excellent sport.
The perfect time to visit is between April and October when Tropical North Queensland receives constant south-easterly trade winds that work perfectly with the beach.
Head out to Yorkeys Knob with your camera and video to see around 40 kites dipping and diving in a festival of colour every weekend during these months.
Other excellent areas for Kite Surfing in Tropical North Queensland include the southern end of Port Douglas Four Mile Beach and Blue Lagoon on Lizard Island.
Lizard Island is not for beginners but is our personal favourite destination due to the stunning clear waters, beautiful coral reefs, natural beauty and above all the perfect consistent breeze over flat water. There were a number of kite surfing enthusiasts working at the resort when we were there. Live it up and stay in the Lizard Island Resort. An all inclusive 5 star affair with fabulous rooms and views. Go on, life's short!! It's a real treat. Lizard Island also of course has the most brilliant diving and snorkelling locations in the world nearby as well as perfect snorkelling right off the beach. There is also a Marine Park Research facility on the island.
Alternatively, there are also a number of moorings up here if you have your own liveaboard vessel or you can fly in, fly out and camp in the totally basic campground. You will need to get National Park camping permits from the Queensland Parks and Wildlife. There is an office here in Cairns city or you may be able to apply online.
SAILING TOURS FROM CAIRNS
Experience exhilarating sailing in tropical breezes as you cruise to your inner reef location be it an island or a secluded sandy cay.
Reef sailing cruises allow you to be as active or relaxed as you like with passenger numbers ranging from 20 up to 150.
Generally the inner reefs and islands are visited on the day cruises, and outer reefs can be reached on an extended liveaboard cruise.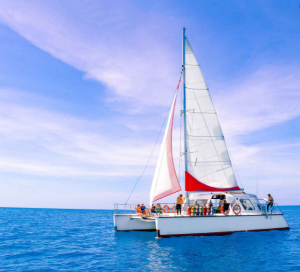 Strong winds mean exciting performance and less travelling time and calm winds mean a spacious comfortable platform to soak up the sun.
Ocean Free is the only sailing vessel to visit Green Island. The day can be tailor made to suit, with the option of snorkel time and various departures over to Green Island. They hoist the sails up for the journey home, enjoy true sailing in style.
Reef Daytripper takes a maximum of 20 passengers visiting Upolu Cay and Upolu Reef. With limited passenger numbers you can be assured of a relaxing day.
Passions of Paradise is a fast, modern 25 meter maxi-catamaran which sails daily to Michaelmas Cay and the Inner Reef. Michaelmas Cay is an unspoilt paradise recognized internationally as one of the most important bird nesting sanctuaries on the Great Barrier Reef. This trip is perfect for snorkeling, scuba diving, and glass bottom boat tours or just relaxing on the beach.
Ocean Spirit Cruises operates trips to Michaelmas Cay as well as Upolu Cay. All three vessels contain fully licensed bars and onboard amenities. Each cruise includes either a glass bottom boat tour or semi submersible tour and is ideal for beginner snorkellers as the locations are quite shallow.
For something a little different why not try Shaolin - a chinese junk boat. Departing from Port Douglas at midday enjoy the afternoon at the Low Isles followed by a sunset sail home.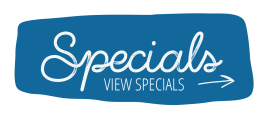 FEATURED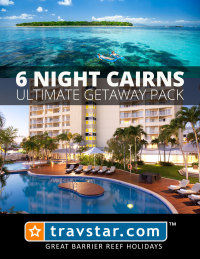 Our 6 Night Ultimate Cairns Getaway offers the ultimate in value, price, inclusions and relaxation. Enjoy the best that Cairns has to offer.
6 Nights From $1335 Per Person
Package includes:
3 nights at Pullman Cairns International Hotel
Buffet Breakfast daily
Kuranda Train & Skyrail Rainforest Cableway
3 nights at Green Island Resort
Return ferry transfers from Cairns
Great Barrier Reef Outer Reef cruise
Free Island Beach Hire
6 Night Cairns Ultimate Getaway
Prices & More Info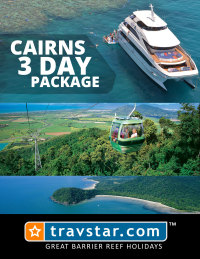 From $405 per person
Our Cairns 3 Day Package offers the best quality tours at an unbeatable price.
Snorkell on the Reef with Evolution, Enjoy the scenic Kuranda Train & Skyrail journey and expeience the Daintree Rainforest.
Cairns 3 Day Package
Pricing & More info


Looking for more things to do while you are in Cairns.
Take a look at our other North Queensland Websites:


www.PortDouglasInfo.com
Port Douglas Info is a great resource to plan & book your family holiday in Port Douglas.
Create your own holiday package online or select from some of our pre-made packages and save




www.FitzroyIslandCairns.com
Everything you need to know about Fitzroy Island.
Resort Packages, Ferry Transfers, Tours & Activities.
It's all here.


www.GreenIslandCairns.com
Green Island is a beautiful 6000 year old coral cay located just 45 mins from Cairns.
Check out all the day tour and Resort Packages options here.


www.CairnsReefDayTours.com
Need Help deciding which Reef Tour to choose?
We can help. Compare & Book over 40 Reef Day Trip options.
You can also just call us on 1800 663 396 We are based in Cairns and know everything about all the Reef Tours from Cairns.
LOCALS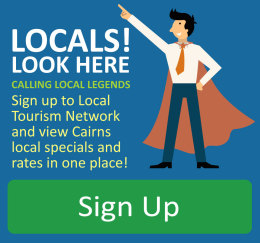 OUR PARTNERS