THE GREAT BARRIER REEF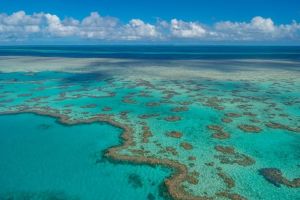 The Great Barrier Reef is absolutely enormous in size!...
It is so large that it's the only living structure you can see from the moon with the naked eye. In area, it is bigger than Ireland and Great Britain put together. However, it's not just one reef, but made up of thousands of different reefs. Some of which are on their own, humungous in size being many kilometers long.
Each reef is separated by a vast vivid blue sea. The vivid blue colour of its water comes from the fact that there are minimal particles floating around in it. These seas are relatively lifeless, but the reef itself is an oasis of life in an otherwise marine desert.
The Great Barrier Reef has the highest diversity of life then any other reef system in the entire world. With its 1500 different species of fish, 350 different kinds of coral, 6000 species of crustaceans, 5000 species of molluscs, reptiles and marine mammals, the reefs are a kaleidoscope of animal life, colour and shape.
The colours are mind blowing, and why so many of them? Generally the red and yellow colours are used as warning colours - just like we use them in stop signs and warning signs. Take the firelion, a fish that glows bright red and white like a fire, saying, "if you touch me I'll poison you!" Little brightly coloured slugs called nudibranchs (in Latin this translates as 'naked gilled'), contrast their red and yellow colours with black and white to let fish know they are nasty and bitter tasting. Flatworms do the same, and when they swim like magic carpets the sight is just titillating (in English this translates as oooohoohooh!!!). The cleaner shrimps eat mucus, parasites and dead flesh off of fish bodies and mark their cleaning stations like we do barber shops, with red and white stripes.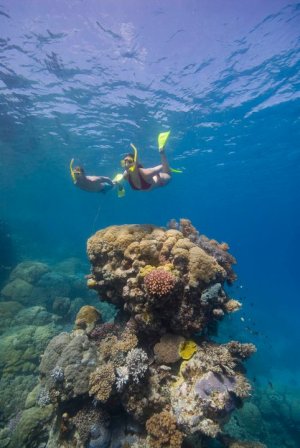 Coral colours are equally unbelievable in their variation, but the makeup of the coral animal is even more incredible. It is an animal, mineral and vegetable all in one.
Reef experiences are also seasonal. October, November and December are the sexy months when the animals are preparing for and getting involved in reproductive activity. January to May is kindergarten or recruitment time, when the babies born elsewhere invade the reef and large mid-oceanic fish charge in to prey on these juvenile delicacies.
June to September is our Whaling season. Most people think that the whales come up to Cairns to breed, but they do that 2000 kilometers south of here, near Brisbane. Strangely enough the main reason the whales come up to Cairns is to get a manicure. Barnacles and other fouling organisms that are growing on their bodies die and fall off in the warm waters of Tropical North Queensland. These whales then do a U-turn and head all the way back down to Antarctica where they spend the next nine months building up their energy for next year's holiday to Cairns.
The benefits of visiting the reefs from Cairns, besides the variety of boats available at very reasonable prices, are the proximity of the outer reefs to shore. The fact that there are so many coral islands, continental islands, drop offs and drift dive sites to name a few. The dive shops are highly professional and have outstanding safety records, as does the dive industry as a whole.
SCUBA DIVING
To certified scuba divers, Cairns and the Great Barrier Reef represent some of the finest and most exotic diving in the world. The Great Barrier Reef is a massive chain of coral reefs encompassing a structure of living organisms.
The outer reefs are great for beginner divers. The maximum depth is generally 20 metres. Some of the best dives on the Great Barrier Reef are in less then 18 metres of water. This tends to be where the reef is at its most colourful and full of life.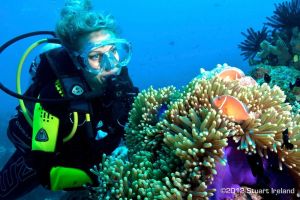 Most outer reef sites offer a range of dive types including Drift, Wall, Pinnacle, Ledge and swim throughs depending on the conditions of the day.
With numerous reef locations available, each site offers a new experience, selected for its unique variety of marine life and corals.

For diving enthusiasts a live aboard trip to the Cod Hole and Coral Sea is a must. The Cod Hole lies at the top of the Ribbon Reefs, and is home to a family of resident Potato Cod (Groper). These diver friendly fish will amaze you with their sheer size and seeming eagerness to pose for camera.

120 miles offshore lies isolated reef systems and crystal clear waters of Australia's Coral Sea. Here 3,000 ft walls emerge from the ocean depths and the water is so astoundingly clear that divers appear suspended in air.
This is home territory for huge schools of pelagic fish and sharks in an undersea world of mountains, pinnacles and sheer walls laced with gorgonian fans and rising from thousands of feet below.

Water temperatures range from 22 to 28 degrees celsius, allowing comfortable diving all year round.
CORAL SPAWNING
Once a year only, for a few nights in early summer, the Great Barrier Reef turns on a spectacular festival...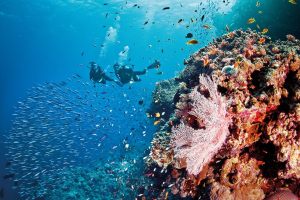 On these nights many corals spawn in a mass synchronized event – unlike any known elsewhere in the animal kingdom. In this amazing event, corals release eggs and sperm into the water creating what looks like an upside down snow storm. These reproductive bundles can be seen in their millions with eggs and sperm released together in spherical bundles large enough to be seen with the naked eye. This sexual fireworks display comes in many colours including pink, red, orange, purple and blue.
What night will it happen?
This year there may be a split coral spawningover November and December. Linked to the phases of the moon. The most common timing is 3-5 days after the full moon in late spring/early summer. There are many factors involved including relatively little tidal movement, water temperature and lighting. Although there are no guarantees of the exact night of the spawning, experts can predict spawning.
To enhance your Coral Spawning experience Cairns Dive operators provide a fun and informative Marine Biology Presentation as a part of the trip. Local marine biologists and underwater photographers talk about the Coral Spawning and answer questions to help give you a greater chance to see the spawning in action. Please note this event only comes around once a year, so there are limited spots on each cruise.
DIVE EXPEDITIONS FROM CAIRNS
Liveaboard dive cruises are the best way to explore the dive sites on the Great Barrier Reef and the Coral Sea. Cruise in comfort in one of the many custom built and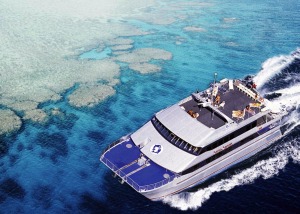 stable vessels. Dive - eat -sleep - dive. Enjoy chef prepared gourmet meals, be pampered and at the same time enjoy some of the best diving this planet has to offer.
Organised trips range from 2 to 7 days, and private charters can be arranged for even longer periods. Not only does it work out cheaper than a series of day trips, it also gives you a lot more dive time at various locations, and best of all you get the opportunity to do a night dive.
The local liveaboard operators offer different types of trips ranging from the Outer Barrier Reefs which are great for beginner divers, to the Cod Hole and Coral Sea expeditions which are an exciting contrast for more the experienced diver.
Your floating hotel on the reef will give you the opportunity to maximize your reef experience and really appreciate the wonders of this unique environment.
FAST CATAMARANS TO THE REEF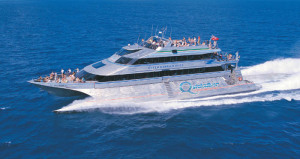 Fast catamarans are a popular option for trips to the outer reef. Travel time on average is 90 minutes to the most northern outer edge dive destination that can be reached by a day operator. The fast travel allows more time for snorkeling and diving at the outer edge.
If this is your only trip to the reef, you will be able to enjoy two to three different reef locations in the one day, which is great value for money. Most operators have access to a number of reef sites that enables the Skipper to moor the vessel at the best sites based on the conditions, water clarity and marine life available on your day of travel.
Passenger numbers on these trips can range from 60-80 passengers max depending on the reef operator. Most vessels can hold much more seating however they choose to cap the passenger numbers to ensure a more personalised experience.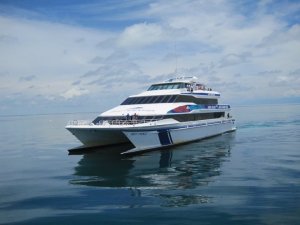 Most fast cats are specially designed, dedicated dive boats offering state of the art navigation and communication equipment, on board compressors, spacious back deck areas and transoms that open onto water level platforms for easy entries and exits.
Comfortable interiors and outdoor deck areas offer plenty of seating to ensure a comfortable and memorable day, and the specially designed dive deck area allows snorkellers and divers to interact without either activity interrupting the other.
General inclusions and activities comprise of all snorkeling equipment and tuition, guided snorkel tours, lunch, and the option to upgrade to Intro or Certified Diving.
COASTAL CORAL REEF GARDENS

Don't let the name put you off, as some of the prettiest reefs are found in these very accessible reefs. These beautiful gardens are scatted along the coast within close proximity to the coastline, and more importantly ports. Some reefs include pretty cays or small islands.
They are accessible by day boats and offer the diver safe shallow dives where whips and fans are plentiful because of the regular flow through of water from tides. Reefs are also abundant with small brightly coloured fish that dwell in shallower waters. Magnificent, soft corals, giant clams, turtles.
Stingrays are numerous and found on the beautiful sandy patches that are scattered between the bommies. Even the odd Dugong has been spotted feeding on the sea grasses. Birds are also plentiful because of the islands and cays around.
These sites are recommended for easygoing casual dives. Most operators offer two dives with time for snorkelling in the middle while others can even offer three dives. There is also a half-day tour to Green Island if you are after a really quick trip.
INTRODUCTORY SCUBA DIVING
Introductory Scuba Diving is diving for which you require absolutely no previous experience — you don't even need to know how to swim!!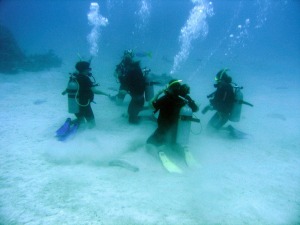 All you have to is breathe – now we all can do that!!
Your day begins with a comprehensive dive brief by your experience instructor regarding the equipment, hand signals, diving procedures and answer any questions you may have enroute to the reef.
You will be required to fill out a dive medical questionnaire (supplied on the boat) to ensure that you have no medical problems that are contraindicated to diving. Certain medical conditions may stop you from diving, and if you are uncertain if this will affect you please enquire when you make your reservation.
On arrival at the reef you are put into small introductory diver groups. The maximum group size is four per instructor.
Afterward a couple of skills in the water and once you feel comfortable, your instructor you will take you on a short shallow dive around beautiful coral gardens. The dive generally lasts 30 minutes depending on your air to a maximum of 12 metres/40 feet.
Your instructor will have a hold of you the entire time so you can enjoy the whole experience safely.
Although learning to dive requires some application, it is not difficult to learn and it does not require any sort of superhero strength or fitness. In fact one thing you quickly learn is that doing things with the minimum expenditure of energy is what diving is all about. Your diving time is determined by your tank of air and the more gently you do things the longer that air is going to last.
On conclusion of the dive you may get a wall certificate or card as a souvenir of the occasion. To get a recognised qualification you will need to complete a Learn to Dive Course.
OUTER BARRIER REEF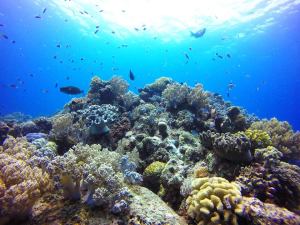 The sub seascape on the outer reef sites differ from site to site but expect different diving to the inter reef gardens, with much bigger variations. Some sites are made famous by series of canyons and gorges cutting through and around a series of coral heads to form complex mazes.
Some are more gentle gardens where beautiful Butterflies, Angels, Parrots and Wrasse get on with their daily activities.
Some include huge Clown Fish cities, which have left many a diver motionless as they suspend and watch undoubtedly the biggest colonies of Clown Fish that they have ever come across, (one of those great places for underwater photography).
Dive Locations:
Agincourt Reef , Arlington Reef, Briggs Reef, Coates Reef, Flynn Reef, Gilbey Reef, Hastings Reef, Michaelmas Reef, Milln Reef, Moore Reef, Norman Reef, Opal Reef, Paradise Reef, Pellowe Reef, Saxon Reef, Sudbury Reef, Thetford Reef
CAIRNS PONTOON REEF TRIPS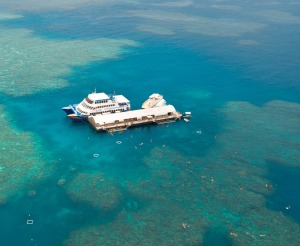 A pontoon trip is ideal for people of all ages with many activities onboard to maximize your experience both above and below the water.
Pontoon trips operate offshore from Cairns & Port Douglas
They allow large numbers of passengers to experience the reef from a safe and spacious platform and are ideal for those who are prone to seasickness, as your day is spent on a stable structure at the outer reef. The boat journey is just the transfer to and from the pontoon.
The floating reef platforms are designed to provide the best experience for both swimmers and non-swimmers. Some of the inclusions on the platform are:- undercover seating, change rooms and showers, underwater coral viewing observatory, semi-submersible rides, glass bottom boat tours, marine touch tank, snorkel platform, kids enclosed swim area, an introductory dive platform & sunbaking deck.
This outer reef where the pontoons are situated is the best habitat for marine life, therefore there is a great diversity of fish and coral as well as good water clarity.
THE REEF FLEET TERMINAL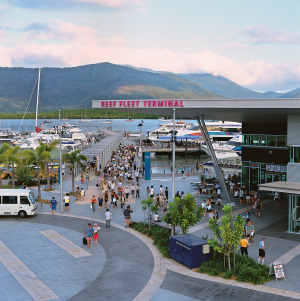 Located in Cairns City right next to the Swimming Lagoon is the departure point for the majority of the Great Barrier Reef Day & Overnight Trips in North Queensland.
The Reef Fleet Terminal is an airport style terminal where visitors check in before departing on their Great Barrier Reef Adventure. The Terminal was completed in 2004 and offers a cafe and some retail shops for last minute breakfast & sun screen purchases.
Marlin Jetty
On the Marlin Jetty you will find the vessels for some of the smaller tour operators who do not have a desk at the Reef Fleet Terminal. The vessels are well signed and the staff will check you in before you board.
REEF FOR NON SWIMMERS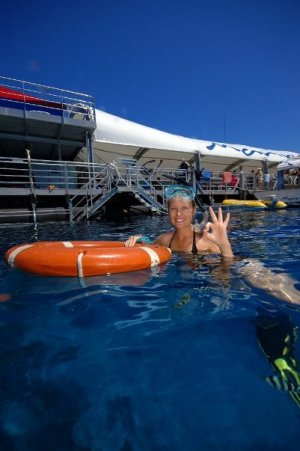 Non-Swimmers Non-swimmers can enjoy a visit to the Great Barrier Reef. Great Adventures Outer Barrier Reef, Quicksilver Outer Barrier Reef and Sunlover Cruises offer Outer Barrier Reef Pontoon/Platform trips that features an Outer Reef Platform that is like a man-made island at the Outer Reef.
Generally these feature undercover areas, sunny areas, tables and chairs, change rooms and all essential comforts for your day. From these platforms there is a semi-submersible coral viewing tour (20-25 minute tour) and underwater observatory.
Reef Magic Cruises also offers a glass bottom boat tour (20 minute tour). These tours are included in the cost of the daytrip. There is also an Informative Reef talk. All tours to the Outer Reef include lunch. Quicksilver, Great Adventures and Reef Magic also include morning and afternoon tea. All tours include snorkelling gear and floatation devices such as noodles and life jackets. T
here is also a life saver on duty and the area where people are able to swim is marked with floating rope and buoys. If you prefer to be on solid ground a very popular Inner Reef destination is Green Island. From here you can see the reef by taking a glass bottom boat tour (20-25 minute tour) however the reef is not quite as spectacular at the Inner Reef as it is at the Outer Reef.
There is also a self-guided island walk. Green Island is a very pretty island and if you book your tour with Great Adventures you will have free entry into the island pool.
Seawalker helmet diving tour on Green Island is an option for non-swimmers who would like to see the reef underwater. Sometimes people who cannot swim decide to book an Outer Reef tour without a platform as these tours are generally cheaper due to less infrastructure. Please make sure there is a glass bottom boat tour included in the day as it is not possible to see the beautiful colours of the reef or the fish from above the water.
REEF TEACH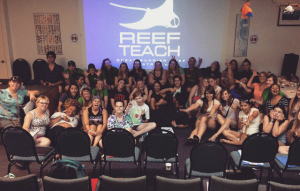 Reef Teach is a unique educational and research centre for one of the Seven Natural Wonders of the World, The Great Barrier Reef.
Through our fun and interactive, family friendly evening show, Reef Teach will have ensure that you get the absolute most out of your time on the reef.
Our team of highly qualified Marine Biologists will take you on a journal from the smallest things on the reef to the biggest and everything in between.
Through fun facts and personal stories, our biologists will give you the most to date and accurate information about the reef, whilst at the same time, keeping it enjoyable.
Our brand new show looks at not only the can top things to see on the reef but also the hidden gems, things that you may have never even knew existed. By looking at different behaviours and tips for identification, a night at Reef Teach will change the way you look at the reef.
We will dispel many of the 'Hollywood' induced fears about visiting the Great Barrier Reef, as well as make you aware of how to avoid some of the real hazards that are out there.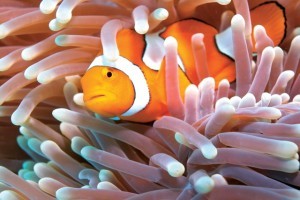 We believe know that after the Reef Teach presentation, you will have seen more than you ever imagined out on the reef as once you know what you are looking at, it is a lot more enjoyable and you will be thrilled to recognise the marine life.
You will really remember your Great Barrier Reef education adventure for many years to come. At Reef Teach, you will learn about Crown of Thorns, Coral Bleaching and other Great Barrier Reef threats. You will also learn how we can minimize these threats and prolong the reef life.
The show will lead you on a rollercoaster ride of emotions. You will hear and see heartbreaking facts about man's disregard for this wonderful paradise, but with practical solutions offered you will leave the show inspired and empowered to change our society for the better.
We want you to have the Greatest Barrier Reef educational experience possible and we assure you that it is our pleasure to educate you of this amazing journey that you are about to take.
We look forward to welcoming you to Reef Teach, Cairns, Far North Queensland soon.
Warm regards
The Reef Teach Team
When is Reef Teach?
Tuesday to Saturday, excluding Public Holidays
Where is Reef Teach?
Main St Arcade (Upstairs)
85 Lake St, Cairns, North Queensland, Australia
Time:
6.30 – 8:30 pm
Admission:
Adults - $23AUD
Under 14 years- $14AUD
Included:
• Fish and coral identification sheets
• Tea & coffee
GREAT BARRIER REEF WITH KIDS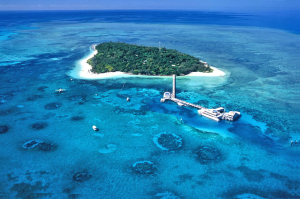 Green Island is great for families with young children. Together you can take the glass bottom boat tour, try snorkelling or just wading in the shallow water and enjoy playing on the beach. You can also take a leisurely stroll through the rainforest to the colourful interpretive centre.
There are also some optional activities at an additional cost you might like to try on the island. Marineland Melanesiais a crocodile and marine life habit with a small museum. They have a daily crocodile feeding show - you can even have your photo taken holding a baby crocodile which the kids absolutely love!
Paddling in a canoe (available from Beach Hire) is an activity you may find enjoyable with young children.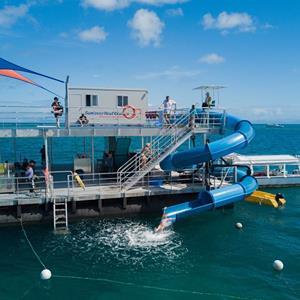 At the Outer Reef, you can visit the large underwater observatory any time throughout the day. Children are often mesmerised watching the different fish and corals, and also the divers descending into the water.
The semi-submersible coral viewing tour is another favourite with kids and a great way to see the reef without even getting wet. If you would like to take the children into the water, there are buoyancy vests to assist with floatation and they are available in smaller sizes.
They are also available in adult sizes which makes it easier for you too so you don't get dragged down by the kids! Snorkelling equipment is available in child sizes. Sometimes it's best to give them the mask first so they get used to viewing the corals and fish underwater, then if they would like to try with the snorkel it's available to use.
Sometimes children prefer not to use the snorkel as it's a little different for them to get used to breathing through a snorkel. There are age limits for some activities.
The minimum age for diving, Scuba Doo and Seawalker is 12 years old.
Vessels, platforms and Green Island are pram friendly with room on the boat and on the platform.
The beach at Green Island has quite soft sand and it is not practical for prams to be taken onto the beach area. There are wooden boardwalks that take you through the island's rainforest which are suitable for prams.
Children need to be supervised and accompanied by a responsible adult at all times. For anyone wishing to take their children into the water, we recommend that a buoyancy device is used. Buoyancy vests are available for hire at Green Island from the Dive Shop. If you are travelling to the Outer Reef, these are included in the cruise and can be collected with the rest of your snorkelling equipment.
The family discount is usually only applicable if there are 2 Adults and 2 Children aged 4-14 years from the same family travelling together. If your child is older than 14 years, they would be classed as an adult and would pay the normal adult fare. Pontoon based reef trips are ideal for families with young children. A pontoon is a stable platform and families love them because they're roomy, there's handy facilities on-board, and there are many activities to keep the kids amused for hours.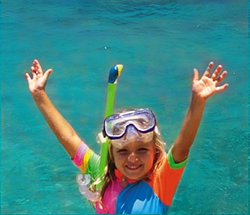 All pontoons feature an underwater observatory built into the structure, which is a little like being in an aquarium but seeing the fish and coral in their natural habitat.
Younger children will love the kids swim area which is fully enclosed and safe. Other activities to keep you busy include semi submersible tours, glass bottom boat tours, touch tank, introductory diving, sea walker helmet diving, helicopter flights and much more.
You can also expect all islands and cays to have ample facilities for children, lots of sand to play with and in some cases an abundance of extra activities and attractions. Green Island is an easy day trip from Cairns and offers the flexibility of frequent ferry transfers. Once on the island the day is yours to do as much or as little as you like.
Most Outer Great Barrier Reef tour operators visit two or more reef locations and all water activities take place directly from the boat, either snorkeling or scuba diving.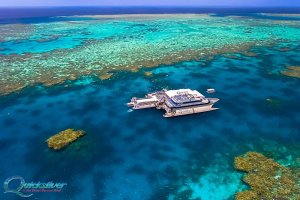 Because Outer Great Barrier Reef trips without a pontoon do not visit dry land during the day, these trips may be unsuitable for some children under 12. There are no child minding facilities onboard, so parents may find it tough keeping younger children entertained.
Families with older children however will love the Outer Reef as the snorkelling is fantastic and the variety of marine life is unsurpassed.
Visiting the reef for the day is an exciting excursion for kids, and in turn very rewarding for parents to watch their children interact and gain knowledge of this truly educational experience.